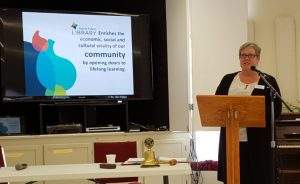 Barrie Annual General Virtual Meeting
Tuesday, Nov. 24, 2020 at 7:00PM
Message from the CARP President, Gwen Kavanagh, Barrie and Surrounding Areas, Chapter 36
PRESENTATION – DISCOVER OPPORTUNITES
We are truly blessed with one of the finest libraries in the country. Hear about all the resources, such as eBooks, streaming music, audio books, magazines, all available at both locations and on line, as well as some exciting new services we are now offering. You will be able to ask questions.
Today is Nov. 11th, Remembrance Day. Please take a moment to honour our veterans. . Unfortunately, the parade has been cancelled but you can call 705-728-1412, if you want to make a donation to support your local Legion.
And Remember, November is Fall Prevention Month, so take care.
BELOW ARE THE BIOS for the 3 Board Members up for election at our upcoming AGM on November 24th, 2020. Please read, you will be asked to vote at the AGM ZOOM Virtual Meeting with feature attached.
If any of you would be interested in becoming a Board Member please contact Gwen at barrie@carp.ca or her cell number at 705-828-2743. We are especially looking for someone with technology skills to assist us in today's digital world.
Please support our Advocacy efforts for LTC Residents, now and in the future.
Please Elect New Executive Committee Member, Mr. Leslie Pollak
I was born and raised in Montreal, Quebec which means  I am fluently multilingual, speaking English, French and German. I first moved to Innisfil in 1997, and am a local resident advocate, community supporter for tree plantings, nature trails, beautification of our parks & beaches.
I have been a member of school's Parent Council's for past 15 years, serving as fundraising chair, co-chair of Parent Council and Chair of Parent Council at St. Francis of Assisi Catholic Elementary School (in Alcona), and current Co-Chair of the Parent Council of St. Peters Catholic Secondary School (in Barrie). I am also a board member of Innisfil Community Events (IceCorp). We host several events in Innisfil and have been doing so for the past 25 years. Events like include Innisfil Santa Claus Parade, Innisfil RibFest, Innisfil Polar Bear Dip, Innisfil New Year's Eve Skate & Fireworks. I firmly believe in giving back to the community and supporting our community.
I went on to started the "Council Accountability Group – Innisfil" in 2020 to inform, educate, raise resident awareness and involvement in our local Municipal government. Holding Council & Staff accountable to residents, pushing for more transparency and accountability to residents,
I am involved with both the Provincial & Federal NDP party at the local level.
Please Elect New Executive Committee Member, Victor Brace
I was born and raised in Kirkland Lake, Ontario and moved to southern Ontario in the late 1960's. I have had extensive volunteer experience. My most recent activities include working with the Barrie Public Library, Barrie Dragon Boat Festival (since 2001), Community Volunteer Income Tax Program (CVITP).
Some of my most relevant and notable experiences include organizing and running the Genealogical Fairs. I am currently a board member of Barrie, Springwater, Oro Medonte PC Party Federal, Ontario Genealogical Society Simcoe County Branch (Vice-Chair), as well as a member of the committee organizing and running the 2015 Genealogical Conference held at Georgian College in Barrie.
I am a proud member of my church, participating where I can, such as the WelcomeTeam and Communion Preparation. I am also a member of the Filipino-Canadian Association of Barrie and Suburban Areas.
Please Re-elect Executive Committee Member, Dave Caldwell (up for re-election further 2 year term)
I was born and raised on a farm in Oro Township, and a graduate of Barrie Central North Collegiate. I have had a strong career employed by TD bank for 10 years to reached status of branch manager. I went on to follow my interests/passions and got a my Real Estate licence, operated a General Store for 5 years, worked as a Dealer and Supervisor at Rama Casino.
My community experience includes serving 9 years as a Councillor for Oro Township, then Deputy Reeve and as Reeve in the last year. I have served on Simcoe County Council for 6 years and joined other committees for Landfill and also for developing the Regional Airport.
I am a proud member and past Kinsmen of the Lion's Club. I volunteered as a driver for the Cancer society and served on Board of United Church. I joined CARP in 2012 and joined the Board in 2015 and currently heads the Membership Committee.